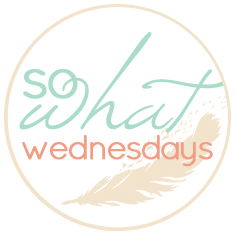 This week I'm saying SO WHAT! if...
I kicked my first DietBet's ass yesterday, then ate 8 inches of a Subway footlong sandwich and screwed myself for the second DietBet's weigh in this morning... Oh well!

I couldn't be more excited for the Runner's World Summer Challenge to end tomorrow, I've accomplished alot but I'm so ready for a day off from running.

I'm currently, kind of obsessed with Fit Challenges! Don't forget

#60inSixty

starts Friday! I'm also doing

Meredith

and

Meredith's Move Your Booty

Challenge and Haus of Girls' (find her on my HomeGirl, Instagram, @hausofgirls)

#50milesinjuly

! Whew, that's alot!

I might have a nerd crush on McCrea from Big Brother...I love me some pizza and that boy delivers!

I've purchased 3 (or more) Fourth of July outfits and still may not wear any of them...

I officially registered for my first Half Marathon in November! I'll be Rockin' the Route in Tulsa, OK! Holla!

I am completely AMAZED that there are over 150 people signed up for the

#60inSixty

Challenge! AMAZED! Email me if you want to sign up

darcispear@yahoo.com

and follow me on my HomeGirl @darci_spear !!

My kids are the cutest of the cute and I'm not sorry for posting lots of pictures of them! I simply can't resist the cuteness and feel I need to share it with the social media world! You're Welcome!
What are you saying So What! to this week? Head on over and link up with Shannon and let off some steam!
Happy Fourth of July! Relax! Eat! Drink! Do dumb shit, but do it SAFELY!
xoxo