*This week's SWW is brought to you by me (duh), along with a bunch of pictures for emphasis!
This week I'm saying SO WHAT if...
I will be laying on the beach, or by a pool, in the bright ass sunshine THIS Saturday! Go ahead...be jealous, I know, and you know, you are!
Dreams Riviera Cancun Resort & Spa
I'm only going to Cancun for 8 days but have at least 24 outfits and I am still 100% planning to take all 24 - I've tried to edit, it ain't happening. What girl doesn't want to rock multiple outfit changes every day for 8 days straight?

Hazel and Olive Boutique - www.hazelandolive.com

Hazel and Olive Boutique - www.hazelandolive.com

Hazel and Olive Boutique - www.hazelandolive.com

Audacious Boutique - find them on FaceBook

This is my Wedding Dress Dress for the Wedding and Laura B and I went back and forth for over 3 days deciding on THE perfect necklace for it and in the end I didn't end up ordering any of them! Don't look at me like that...I ain't the bride, I don't have to keep it a secret!
THE perfect necklace showed up on GroopDealz yesterday (the red/coral one)...and even though I won't have it before we leave I still ordered it AND a black one!
I'm still wearing the 10 cent Neon Green Friendship Ring I received at the bar on Saturday night by a nerdy dude dressed as Mr. Rogers with a name tag...this shit is supposed to "change my destiny"...well destiny, this B is still waiting...
I won my first prize/giveaway EVER this week! I have been obsessing over Evie J Boutique for a few week's now, ever since Laura B started pimp'n them out on her blog and IG. There was a FB Share Giveaway and the prize was $30 to spend on the website! I'm been stalking my choices for 2 days now...
Kimmy was providing her professional, recent emoticon "What Do They Say About You" evaluations on IG yesterday and thought I liked to eat Eggplant - as in the actual food... (and no, those aren't even all the comments - to see more check on my IG @darci_spear)! However, I do like Dance and Cut People!
I started a new DietBet on April 8th and haven't weighed myself once since I submitted my Starting Weight... I was lucky enough to get the weekly email reminder that I now have "18 days to lose 6 lbs" - real F'n nice! Don't they know I'm going on vacation next week?
You couldn't tell by now that I'm slightly obsessed with Laura B @ Walking In Memphis In High Heels and we like to communicate via every social media site, email and text all at the same time - proof is in the picture! But no, really, she is amazing! So nice and sweet! She is a fashion blogging goddess! Go check her out if you haven't already!
Text, Instagram, Email, FaceBook and Pinterest... all within about 15 minutes! LOL
What are you B Faces saying "So What" this week? Go link up with Shannon and spread the Love!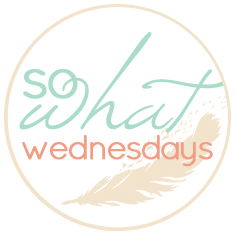 xoxo