Tuesday, May 21, 2013
I have lived in Oklahoma my entire life. I have seen devastation from tornadoes. It never gets easier.
Please pray for these families that lost their homes and their loved ones.
There's many ways to help:
Hello Apparel
is donating 100% of sales of this tank to the Red Cross.
If you are interested in helping a family in need you can read Kimmy's post
here
about a single mom who lost everything in the tornado.
Now...
This week I'm saying SO WHAT! if . . .
I'm bailing on The Husband's Family Reunion this weekend! It's Memorial Day weekend and (the reunion is also always on Memorial Day weekend ) I just want to have a lazy 3 day weekend...
I'm strongly considering breaking out the kid's blow up pool to lay out in this weekend!
I didn't get Queso yesterday, but opted for Brocolli Beef and Crab Rangoon instead!
Queso is on the lunch menu today!
Oscar wouldn't come down in the safe room Monday night and I closed the door leaving him in the house! Kids > Dog... #sorryimnotsorry
I've been obsessed with my Jawbone UP Band this week! I get so excited when I sync up to see my stats!
I put Norah to bed at 6:30pm and turned Chipwrecked on for Jack at 7:00pm just so I could finish reading Beautiful Bastard last night! It was SO worth it!
I'm only on Day 3 of my 8 Week 10K training program and I'm bailing on today's workout to go eat said Queso mentioned above!
Bean turns 16 months next week and I still haven't ordered her 1 year pictures!
I live vicariously through my 23 year old BFF's drama-filled love life! Oh how I miss college...to be young, fun and a total slore!
I'm planning to attend a friend's 10 year HS Reunion with her this Friday even though I didn't even grow up in the town, let alone attend the same HS! What? She invited me!?!?
What are you saying SO WHAT! to this week? Link up with Shannon using the button below!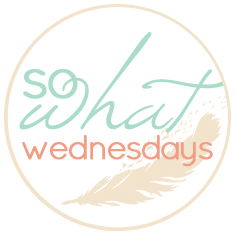 xoxo