It's Friday Bitches! What!? What!?
Yesterday was a doozie - sick as F! It sucked, but I'm feeling much better today - thank you sweet baby Jesus! However, due to the Flu I'm already like 48% of the way to my Holiday Weight Loss Challenge goal! Score!
I'm horrible for not blogging about this sooner, but better late than never I always say - like every morning when I get to work 15, 20, 30, or even 60 minutes late! Whoopsie!
Kassie over at
Southern Girl Gets Fit
hosted a Blogger Swag Swap last month and I was paired with Cari from
The Crazy Kents
.
Cari and I have so much in common! Our kids are the same age, she's married, I'm married, she helps people (nurse), I hate on people (bitch), she loves running, I make myself run... see, basically the same person! Haha!
Cari sent me a ton of great stuff! I'm not sure why the top picture is sideways, but I can't get it to turn - where is
Hubby Jack
when you need him?!
My Loot! :-)
I have to say my most favorite thing is that little spoon thing you are supposed to use when cooking (yeah, I'm not a cooker - big surprise), but of course I won't be using it in the kitchen! Also, included was a cute Christmas hand towel, 2 peppermint Luna bars (which Jack stole and loved) and the super awesome Mustache drink markers - those sucka's are NYE bound!
I also got some running gear - awesome zebra socks, a cute pink chevron headband and tons of hair ties contained nicely in a mustache bag (which went straight into my gym bag)! Also, not pictured is an awesome water bottle that helps you keep track of how much water you have drank that day!
Next was the "personal grooming" items - an emery board, manicure kit and lip gloss! Holla! Also, not pictured was OPI nail polish in You Don't Know Jaques - I love it!
Thanks, Cari - I loved everything! You rock sista!
Lastly, next Wednesday is the big day! The Santa Picture Fail Link Up! Dig out those pictures this weekend and be ready to do a kinky linky with me - minus the kink! Holla! Big thanks to Holly's husband for the button!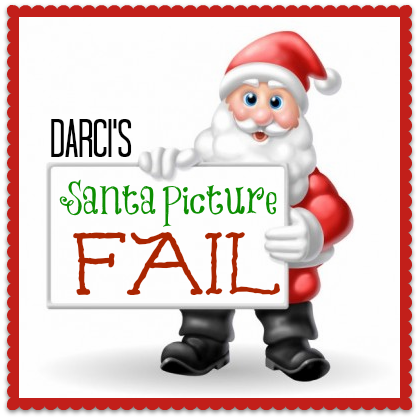 Have a great weekend lovelies!
xoxo