Happy Almost New Year! A new year brings new resolutions; this year I've decided to use
My Sista From Anotha Mista
, Kassie's Operation Red Bikini as my new year's resolution.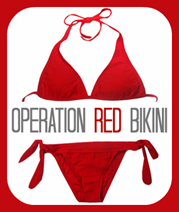 Kassie
and
Leigh Ann
are hosting "Operation Red Bikini" or ORB which is a personal fit challenge, each individual chooses their own goal, documents their progress and then on May 31st 2013 - everyone will link up and share their stories and results. From there the participants will vote on the most inspirational/successful journey and of course the winner is going to win lots of cool swag! Click
HERE
for all the deets then join in and challenge yourself, while supporting other wonderful women!

L - Darci ... R - Kassie
Total Twinks!
A couple months back I laid out a few general goals for myself as I work to shed the baby weight, get fit and be healthy! You can read that post
HERE
; As of this morning I weighed in at 174.0 pounds - 5.4 pounds lost since that original post 2 months ago (starting at 179.4) - definitely not great progress, but at least I'm off the steady gaining train I had been on since Bean was born!
I decided to split my ORB goal(s) into phases, I tend to fall off the weight loss wagon if I don't have frequent goals to keep myself accountable! So let's get to it, introducing
Darci's ORB Journey!
Phase 1

My original goal was to lose 20 pounds by Bean's 1st Birthday, but I changed it to my Dirrrty 30 to keep the focus on me - because I'm an attention whore...sue me! Basically, if I can get anywhere in the 150's by this date I will consider it a success!
Phase 2
My BFF, Julie's Bachelorette Party is going to be the day before St. Patrick's Day in KC at P&L. Seeing as though I have body dysmorphia - I ordered the little green and white napkin dress above. Phase 2 consists of me actually wearing this dress to the party... FML!

Phase 3
I will be spending 7 nights, 8 days at the resort shown in the above photos...Phase 3 requires me to wear both of the swimsuits below during this vacation AND provide photographic evidence! Yes, I have already purchased and received both of these suits - they are currently hiding on the floor in the back of my closet.
Phase 4
This is the Grand Finale ladies! In the end I won't focus on the total pounds lost and the 45 pounds is an ultimate weight loss goal. Losing 45 pounds would put me right around 135 pounds, I have always felt comfortable around 140-145 pounds. In the end I really will be focused on how I feel - am I still uncomfortable? am I still hiding from the camera? am I still avoiding taking my kids to the swimming pool? am I still completely opposed to wearing shorts? OR am I proud to do all of these things?
There you have it Hookstars!
Are you participating in ORB? If so, leave me a link to your blog in a comment! I love following other stories that relate to my own and I think it's a great way to motivate each other and keep your eye on the prize!
One last thing... guess who gets to hang out with the one and only
Holly Stanfield
tomorrow? That's right, this girl! Be jealous! I'm sure we'll be Instagramming like middle school girls at their first co-ed dance! You have been warned!
xoxo