This week I'm saying So What! if...

It's HUMP DAAAAAAAY...I'm pretending it's Casual Friday, Bitches!
The Husband is currently obsessed with me getting some ink on my ribs/side boob...I guess he thinks it's sexy? I have always wanted to get like a tree or something that can be drawn to fit my curves so I guess it's time to shit or get off the pot! Which one(s) do you love? hate?
I was MORE than proud when Norah Jane busted out her first Duck Lips this past weekend! Can you even handle it? I can't!
I'm participating in like every challenge known to woman-kind this month! I started my 8 week training plan for the Route 66 Half Marathon and I guess I just need to kick it into high gear or something... If you haven't checked out
Four Fit Sisters
you are missing out! Just sayin...
Today is Day One of the Advocare 10 Day Herbal Cleanse, it's only 9:05am and I'm already salivating at the thought of Gorilla Nachos...nom, nom, nom... This is going to be a LONG 10 days!
At 9 days post Tough Mudder, this beauty is still holding strong! Legit, no?! My friend asked me "is that normal?" My first response was, "I didn't know there were un-normal bruises..." but now that I think about it...IS THIS NORMAL?!
What are you saying So What! to this week!? Go link up with
Shannon
and let us hear all about it!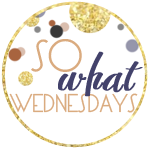 xoxo