This week I'm saying So What! if...

I've been called Pocahontas, Cleopatra, Vanna Brown (no words), Yoko, Jen-nay (Forest Gump reference) and even received a "what is this?" accompanied by the finger swirl/wave up and down while eyeing my Boho Fashions today! Hell, the Owner of the company just asked me if he missed the memo about Costume Day! FML! I'll rock my headbands all day, everyday! #jealousmuch
I cannot wait for our Family Vacation next weekend! We are taking the kids to Branson and staying at the Still Waters Lakefront Resort! All I want to do is have the paid babysitter people take my kids swimming, kayaking, fishing, paddle-boating, cliff diving, jet skiing, pontooning and/or whatever else their little hearts desire...all while I lay my ass in the sun and read a good book! I do however want to do putt-putt and go-karts! #kidatheart
Jack starts 4 year old preschool in a couple weeks, after Labor Day, and I have zero emotions about it. That doesn't make me a bad Mom or a Mom that doesn't give a shit, but seriously people he has been going to daycare full-time since he was 9 weeks old - it's not like we are going to have a separation issue! Look at him...does he look like he needs school? He's super resourceful - don't have a swimming pool, how but a platic storage bin!? And those spirit fingers...he's got them down pat! He's got a bright future ahead of him!
I did however see these super cute "First Day" free printables over on
Darci's
blog! #nametwins
Norah is 18 months old and still only says "Momma" "Dadda" and "Tang Kew" on the regular! Have you seen her? She's gorgeous, she doesn't have to be smart! Kidding...kind of...maybe! #lovemybean #truebeauty
There you have it! What are you saying So What! to this week!?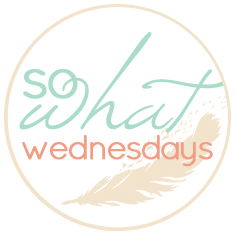 Good book suggestions!? I've done Christian Grey, Gideon Cross and Caleb...I need a new man to drool over!
xoxo