Today I'm linking up with
Kate
and
Lex
for a NSV (Non-Scale Victories) Link Up! I'm the girl that tends to focus WAY too much on the number on the scale...I weigh daily for the most part and it sucks to say but that F'n number on the scale can totally impact the way my entire day plays out! I'm a slave to the NUMBER! Ugh! In my
defense
poor attempt at an excuse, I will say that if I don't weigh myself consistently I always gain weight. It's totally out of sight, out of mind for me - when it comes to losing/gaining weight this is no buena!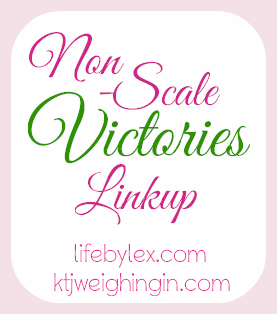 So let's get to it! I have 3 NSV's to celebrate today! Snaps to THAT!
Numero Uno - Booty Shorts!
I've never been shy about my Thighs For Days...but seriously all the running lately is totally rock'n my legs! They aren't small by any means, I've always had bigger/muscular thighs...it's genetics. I'm cool with muscular thighs...not so cool with flabby, yucky thighs! I'm definitely seeing progress! I even actually wore booty shorts to the Y yesterday for the first time! Holla!
Numero Dos - Naked Arms
As opposed to my open hate for my thighs...I have long struggled in secret with my ARMS (ok, its not really that dramatic). Tank Tops...no thank you. Strapless Dresses...no F'n way. I was just never comfortable showing my arms after I had Jack, and thus was heavier than I'd ever been. I have a "thing" about naked arms at work period...like I don't think anyone should wear naked arms at work! I don't want to see anyone's armpit at work, it's just odd and gross. I know I can't be alone on this one, right? Here lately though, I've found myself wearing more tank tops and strapless dresses (with a cardigan at work) and I'm not hating it. I don't feel insecure or embarrassed, or constantly think anytime someone is looking at me that they are staring at my BIG ARMS! Whoop! Whoop!
Numero Tres - Ruffled Bikinis
I'm just going to let the pictures do the talking on this one!
What are your recent NSV's? Use the button above and head over to link up and celebrate!
xoxo